You've leased or purchased a wide open mobile building from a local mobile / modular brokerage and need to install some offices to get your staff working and your project on track. You basically have two options: build your own stick built walls to your design or have a third party install a modular wall system. The first option is labor intensive, messy, and could take several days to complete before your staff can move in and be ready to occupy your workspace. The other option, temporary modular wall systems, Modwalls, are a quick install, usually taking less than a day to install depending on the scope and layout of your project. Modwalls provide you with a timely, cost effective path to complete your needs.
The company you leased or purchased your unit from should be able to assist you with your layout, in fact, many have pre-designed floor plans for the most efficient use and layout of the most commonly requested office floor plans. We work through Mobile / Modular brokerages and customer direct. Modwalls can be included in the cost of your lease or purchase and can be installed at the same time the unit is set, allowing for quick occupancy. The added benefit of utilizing a modular wall system is the option to use various panel products for the wall system itself. The three most common are Lauan (a 1/8″ plywood material made in Indonesia), tackboard, or sheetrock. Each of these are faced with a vinyl wallpaper product that can be color & texture matched to the existing permanent exterior walls inside the structure, and is relatively easy to keep clean.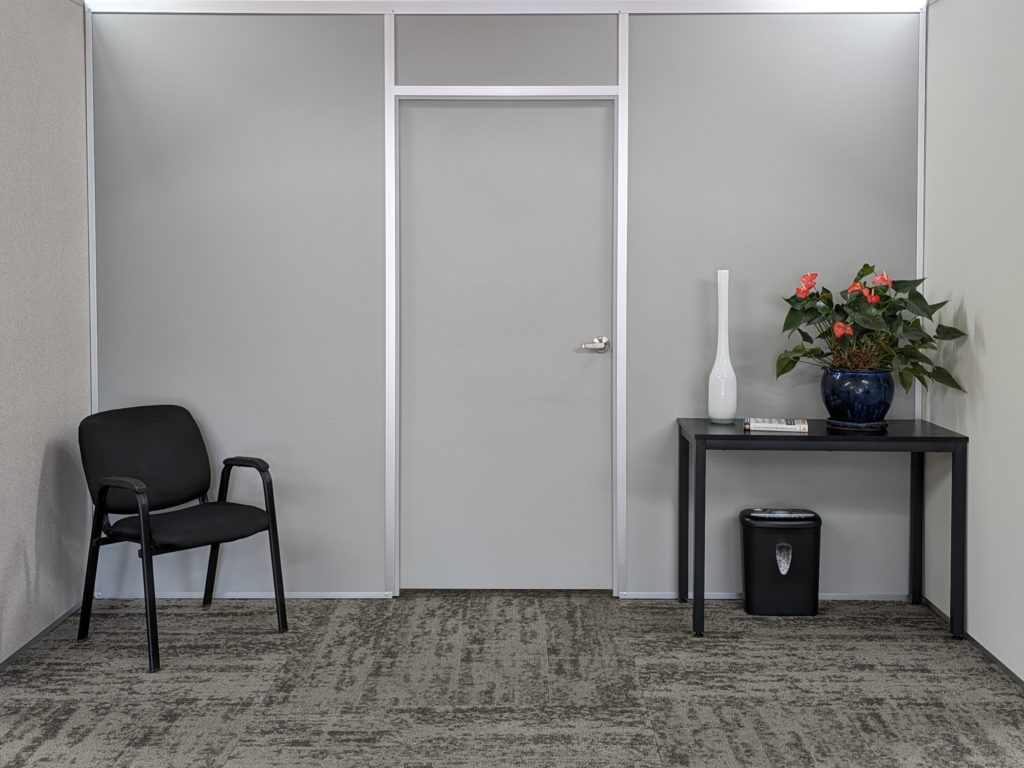 So, what are the main components to a standard 8′ tall EZ Systems modular wall system? Modwalls can be divided into two distinct categories: Panels and Aluminum. We'll start with the panels.
EZ Systems Modular Wall Panels have the same two basic components: A closed foam core sandwiched by two sheets of vinyl wrapped Lauan, tack board, or sheetrock, glued together with a water based white glue, much like what you'd find in any grade school classroom. We use a specific glue pattern that was developed over years of trying different applicators and patterns. We finally found a pattern that worked time after time, regardless of temperature and humidity. One of the first things new employees are taught is the importance of maintaining the same, consistent, glue pattern day after day.
Within the panel category are the wall panels themselves, doors, fixed window panels, and slider window panels. Common to each is the wall panel itself, forming the structural aspect of the component; the full panel on a wall panel, the lower portion of the wall panel and the header overhead on the window panels, and the header over the doors. The commonality ends there, though. The wall panel is a unit unto itself, requiring no other component, like aluminum or wood, to remain assembled or provide structure. The windows and doors require additional components to provide structure and integrity, including aluminum framing, MDF stiles, and screws.
The windows are encapsulated in a frame of aluminum H Track, eight foot uprights on either side, with H Track completing the frame of the window top and bottom. Our windows are 48″ wide X 42″ high. The standard window, as seen in the photo above, is a single sheet of 3/16″ Plexiglass mounted inside routed out stiles, securing the window in place. Sliding glass panels are similar, but with two sheets of 1/4″ plexiglass laid in upper and lower tracks to allow for both panes to open. Fixed window panels can be modified to accommodate a pass-through under the window to slide objects back and forth – tickets, cash, etc.
Similarly, doors have the same eight foot H Track uprights on either side of the door, which hold the door stiles, two MDF boards that create the door frame and jamb. The integrity of the door panel is firmed up with the installation of the header over the door. The header is basically a mini wall panel, with reinforcing wood components built into the perimeter lamination of the panel, providing anchorage points for the uprights. The doors can be ordered as left swing / right swing, in or out; they can also be changed up in the field while installing the walls, if necessary. The standard door is a hollow core flat slab door in Golden Oak finish. Brushed nickel finished ADA compliant door levers finish the door off.
The aluminum. Proprietary dies are used to create our extruded aluminum sticks. Each stick is finished with level three anodization to create a clean matte finish. Our Modwalls are assembled with seven different aluminum components: Wall Starts, Wall Ender (2 pcs), H track, Top Track, Bottom Track, Data Track, and Outside Corners. Each of these components arrive at our shop in 24′ long sticks and are stored on 24′ racking. Sticks are cut down to length on an as-needed basis and inventoried in volume for off-the-shelf use as orders are processed. Their uses:
During installation, the Modwalls will be laid out on the floor according to the provided floor plan. The wall starts are secured to initiate the walls, followed by the bottom track according the laid out plan. Top track is installed and secured using a level and H track to provide support and rigidity during the process. The top track is secured to the T-Grid using self tapping pan head screws. Wall panels are slid into place with H Track placed between each panel with self tapping pan head screws to hold them in place, top & bottom. The last wall panel is cut to width onsite (we urge all installers to cut panels on site for accuracy); one piece of the two piece wall ender is placed in position and anchored into place. The last wall panel is installed by sliding it up into the top track, then lowered into the bottom track; the second piece of the wall ender is anchored to the newly installed wall panel. The process is the same for all of the walls, regardless of where the walls start.
Shipping. EZ Systems ships to all 48 states in the Continental US. For shipments to Oregon, Washington, and Idaho, we will generally use our own trucks for the deliveries, depending on the size of the shipment. Shipments to points outside the Pacific Northwest, we work with freight brokers to book deckspace on flatbed trucks, conestoga's, or curtain vans. Using these types of equipment generally alleviates the multiple loading and unloading experienced with LTL trucking. All shipments are shrink wrapped to provide maximum protection during transit. Hardpoints on top of each pallet are included and marked out on the shrink wrap to show the driver where to install the tie-down straps. This is an additional safeguard against damage we take to make sure the product arrives intact and undamaged.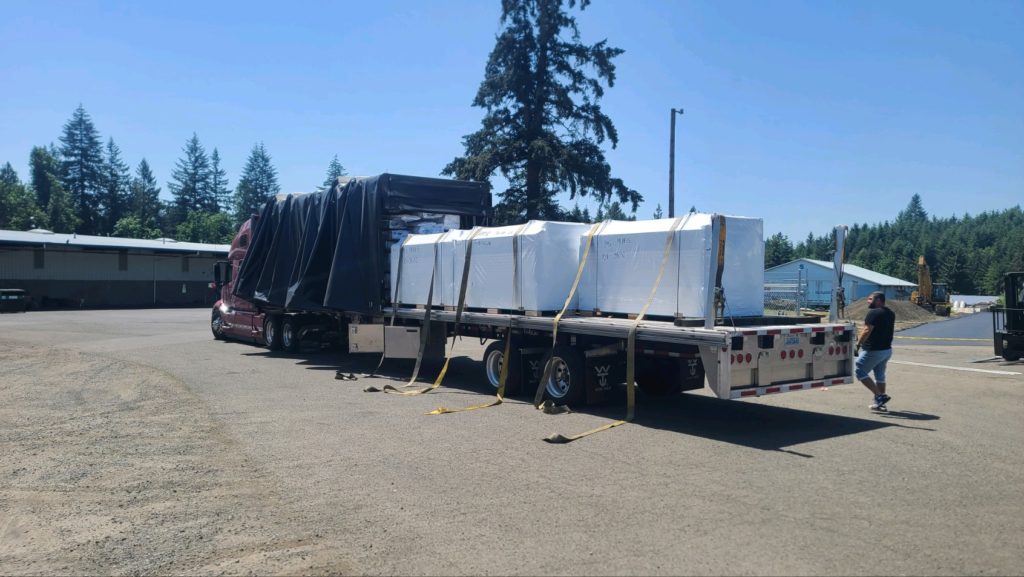 Quality control is paramount to EZ Systems. We work diligently with our suppliers to make sure the products we receive are of the highest quality. Products are inspected before being sent to production. Components coming through production that don't meet our standard are removed and either disposed of or cut down to usable components to be used in other aspects of making and assembling our walls. We invite our vendors to our warehouse to inspect our storage, production and assembly stations so they can see how particular we are about taking care of our inventory. We are always complimented on how clean our warehouse is compared to others our vendors visit regularly. A warehouse that is well cared for and employees who are treated fairly and compensated well will be reflected by the quality of the product going out the door to the customer.
The future is bright for EZ Mod Walls. Our wall systems are designed for use in multiple demographics, specializing in construction offices and classrooms. EZ Systems Modwalls can be configured into offices, conference rooms, break rooms, IT rooms, secured storage spaces, sound dampened consulting rooms, standalone offices in warehouses, or office cubicles. We are currently working with a local engineer to help us design permitted stand alone offices and eventually two story structures for multi-purpose use in warehouses and manufacturing facilities. It's a competitive market, but we believe in our product and have confidence the niche for our current future products will only continue to grow.