The experts in mobile and modular building services and modular wall systems for over 25 years
Mobile & Modular Building Services
EZ Systems works with mobile and modular retailers / lessors, contractors, and their clients to provide an affordable, functional, safe and adaptable environment that meets the needs of the end user. Whether it be office space, classrooms, storage, retail or IT, EZ Systems will work with all parties involved to set, build-out, and finish your project.
Modular Office Wall & Partition Solutions
EZ Mod Walls is a product specifically designed for companies who lease and sell commercial mobile and modular office space to the end user. EZ Mod Walls provides a fast economical solution for partitioning open spaces into meeting rooms, private offices or cubicles as desired by the customer.

Our top quality products provide a multitude of uses to our wide range of clients. Our products allow businesses to expand, relocate, work more efficiently, and serve more customers, students or patients.
Looking for more information or ready to get started?
The experts in modular walls and structures for 25 years
EZ Systems began in 1992 offering site services to providers of mobile and modular buildings in Oregon and Washington. Services started out as custom on-site finish work, modifications per customers needs and repairs. Services expanded to complete set-up and tear-down of both mobile and modular buildings. In 2005 as the demand for walls continued to grow, EZ Systems started manufacturing its own wall system design with many improvements. Since then, many small and large wall installations have been completed to full customer satisfaction. Dealers in several states stock EZ Mod Walls for their own crews to install as needed.
Our team of almost 20 employees is the core of our business. Meet the friendly faces behind EZ Systems and learn more about what we do!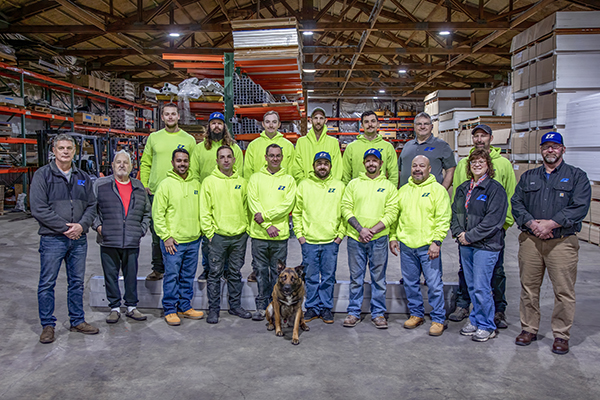 Join our mailing list and stay up-to-date with EZ Systems!
Ready to get started on your next project? Looking for more info about our products and services? Contact us today for a quote or more information.
(800) 501-0339
Mailing address:
EZ Systems
PO Box 1835
Oregon City, OR 97045
Shipping address:
EZ Systems
27600 SE Highway 212
Boring, OR 97009