Mike Richardson; Owner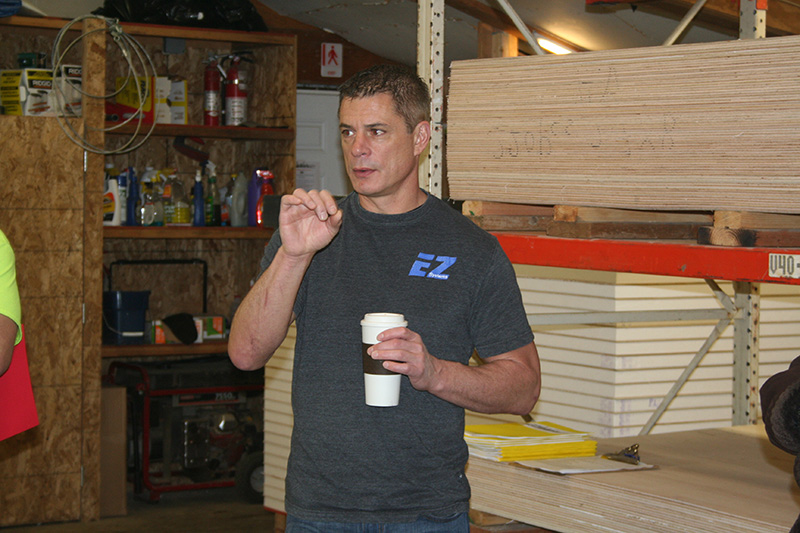 Mike got into the construction industry shortly after high school in Silverton, OR in 1984. After a short stint in southern California, Mike realized his home is in Oregon and returned in the late 80's, going to work for a local modular building manufacturing company, Blazer Industries, where he learned his future trade. Seeing a niche market opportunity, Mike struck out on his own in 1992 with the establishment of EZ Systems.
What is the most important thing you've learned over the last twenty two years in business?
Every job, every customer, every opportunity is unique. People want to know that you have a true interest in their need – paying attention to what they're saying and communicating with them is paramount. The value is realized in that I have some twenty plus year customers that come back to me time after time because of that very aspect.
What is your favorite part running EZ Systems?
My crew is family. I also love the flexibility that twenty years of stability of business have given me over the years.
What are your long term goals for EZ Systems?
A company that will be here for my crew and family, whether I'm here or not.
What are your hobbies?
Having events here at the property. Anytime I can have a bunch of friends over, fire up the barbeque or fire pit and just let loose with friends, family and neighbors is ideal for me.
Boating – I love being on the water.
Music – I love just about any type of music.
Larry Pond; Foreman

A 1983 graduate from Silverton Union High School, Larry and Mike were close friends all through school, forming a bond of trust that they enjoy to this day. The consummate worker and all around good guy, Larry oversees each project to ensure they are completed on time, on budget and to the customer's satisfaction. Larry joined EZ Systems in 2002.
What drew you to EZ Systems?
My good friend Mike from high school owned EZ Systems – I was looking for a job and he was looking for a new employee. That was thirteen years ago.
Of all the jobs you've worked on for EZ Systems, which stands out the most?
The Cle Elem job we did a couple of years ago. It was a three story, multi-million dollar house – it was huge. Putting that house up was a major challenge that took all of my experience through the course of construction. It was also one of the longest jobs we've ever worked on.
What do you most enjoy about working for EZ Systems?
The flexibility of my schedule and the people I work with. Getting to work outside is another great benefit. I like the variety of the work we do – every new job is a new challenge to a certain degree.
EZ: What are your hobbies?
I like working on cars. Old Mopars are my favorites. I like working with my hands; building things. Metal fabricating is fun – I don't get a chance to do it so much, so it I look forward to it. Wood working – restoring furniture, building new tables and stuff. I just really enjoy working with my hands.
Bob Murtha; EZ Seismic

Another Silverton graduate, Bob & Mike became fast friends in grade school and remained friends through high school. Going their separate ways after graduation, they reconnected in 2007. Bob has followed several career paths over the last thirty years including over a decade of well-rounded restaurant experience, several years of home construction, and nineteen years in freight transportation. When the opportunity for a new challenge was presented to him by Mike, he jumped at the opportunity to go to join the team at EZ Systems.
Why the career change now?
After nineteen years in freight transportation, I was ready for a change. What started out as two friends getting together for lunch turned into an opportunity for both of us: Mike to launch a new division that he's had swirling around in the back of his head for some time; and for me, an opportunity to take on a new challenge in a new industry. It's a win-win for both of us.
What draws you to EZ Systems?
I respect Mike for his integrity, the reputation he's developed in the industry, and the loyalty he's gained from his employees.
What, beyond having spent three years in home construction, qualifies you for this position?
I've always been very hands on whenever it comes to construction projects. Whether it's remodeling all three of the bathrooms in our house, or a full on restoration for one of my old bosses homes, I'm in the middle of the fray. I worked closely with the local building inspector on the restoration, which gave me pretty deep insight on how things work behind the scenes. I've also done a lot of research on the subject – it was one of the pet projects I wanted to do on my own house before we ended up selling and moving.
Also, one of my closest friends works for one of the major commercial construction companies here in the Portland area. For many years, he also ran a small construction company on the side, specializing in specialty remodeling for a local charity, amongst other projects. We spent many days working together on a variety of projects for his company, as well as a couple of projects in our neighborhood.
What are your hobbies / favorite things to do?
Any time I am at the helm of my boat is a good time. I love being on the water – whether it's just opening the throttle up and going fast or anchored for sturgeon fishing, I'm in my element.
Spending time with family is very important to me. I spent the last four years working two jobs, working to recover from the economic disaster of 2008. Now, I just want to spend my spare time with my wife, my two kids – when they're in the area, and my granddaughter.
Shelli Knable

As book keeper Shelli is the one that helps keep Mike's ambitions and drive in check. Shelli had some big shoes to fill, replacing the book keeper who was with EZ Systems from when they first opened their doors in 1992, to her retirement in 2011. Shelli fit right in and has been an integral part of the EZ family from day one.
How did you come to work for EZ Systems?
I had posted an ad in Craigslist looking for some additional part time work. Mike saw my ad and called me – his book keeper was getting set to retire, and he needed someone to take over when she left. That was five years ago.
What do you like most about working for EZ Systems?
I really enjoy the family like atmosphere. This group of guys are like an extended family to me.
What are your hobbies?
Knitting, reading, working out, and going to the movies.
Jeremy Falander

EZ Systems hired Jeremy in 2001, Jeremy is the shop foreman, and has been with EZ Systems longer than any other current employee. Jeremy has been a steady and reliable member of the EZ team, always willing to adapt to new jobs and take on new challenges.
Antonio Chavez

An EZ Family member since 2006, Antonio is the human version of the Energizer Bunny, always working, pushing himself to help the company wherever and whenever needed. Antonio is the go to person for special projects and / or special services.
Cameron Richardson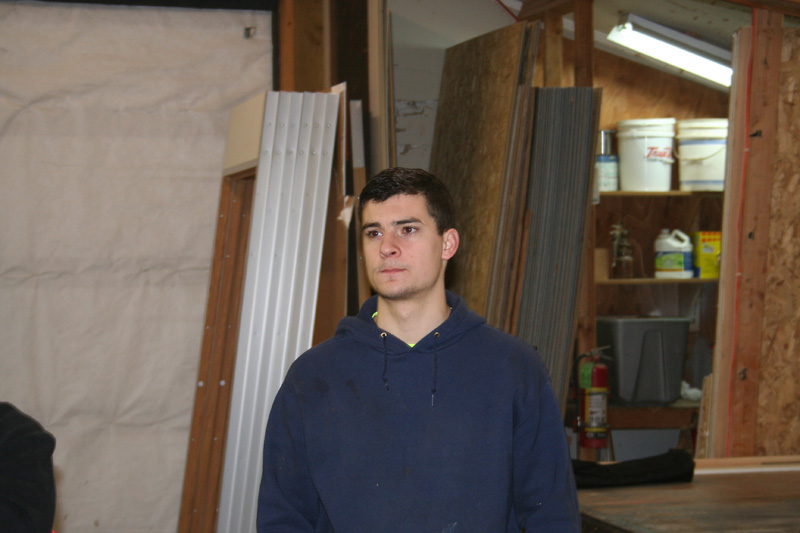 Cameron grew up watching EZ Systems grow. Learning at his dad, Mike's side, Cameron has learned many of the nuances of the business. He will be taking the skills he has learned with him as he and Bob will be handling the majority of the Seismic business – Cameron will also continue working on the mobile / modular aspect of the business as time allows. Cameron is a 2014 graduate of Oregon City High School.
Some of Cameron's interests are operating heavy equipment at work and dirt biking in his spare time.
Richard Tyle

Richard joined EZ Systems in 2007, but took some medical leave to address some non-work related back issues, and rejoined the company in 2014.